Home
> Participation > Excursions
Excursions
Tickets for excursions can be purchased at the time of registration, or at the onsite registration desk.
All these excursions will take place on Tuesday afternoon (27 June 2006).
Walking Tour of
Bologna
The walking tour begins in the Piazza Maggiore which has been the heart of Bologna for 2500 years. This airy, open space is lined with the city's most important buildings: the Palazzo Re Enzo, Palazzo del Podestà, the majestic Basilica of San Petronio, the elegant Fountain of Neptune, Palazzo dei Notai and the imposing Palazzo de' Banchi. You will also enjoy the Archiginnasio and the Anatomy Theatre of the University of Bologna, the medieval market and the Loggia dei Mercanti, the complex of Santo Stefano and the famous two towers.
Price: $15 USD
Gourmet Walk
This guided walking tour around Bologna's medieval market will include the history, art and traditions of Bologna. Participants will visit a traditional bakery, a pasta makers shop, Beccari's salsamenteria, and a traditional chocolate maker where solid chocolate was invented. Along the way, in addition to tasting Bologna's heritage, you will learn the history of such famous Bolognese food as tortellini, tagliatelle, and mortadella (which dates back to the third century BC). This excursion ends at a typical Bolognese osteria where you can experience the fun-loving side of the world's oldest university.
Price: $25 USD
Modena

Farms

This tour will be by bus to the close town of Modena where delegates will visit a Parmigiano Reggiano cheese making factory, a winery and one of the factories that produces the famous balsamic vinegar.

Price: $60 USD
Dozza
Visit the medieval castle (including its torture chambers) of the close little town of Dozza along with its famous winery.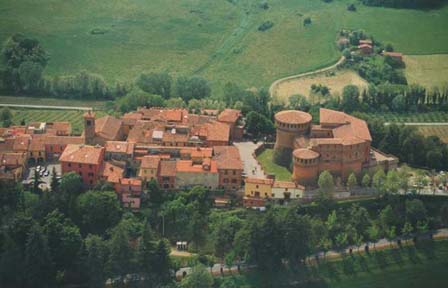 Price: $85 USD